Let's Do this
The Snowboarders & Skiers for Christ Conference is back this fall, November 17th-20th in Waterville Valley, New Hampshire. Come gather with other skiers and snowboarders on mission for Jesus from across the world. If you love Jesus and the shred culture, this conference is a place for you to see old friends, make new ones, receive practical training, and have a ton of fun.
About the Conference
There are a lot of varying opinions as to what "Post-Christian" means, but ultimately a Post-Christian society is a society that's rejected Christianity as a valid rule of life where Christianity was once dominant.
So what does ministry in the ski/snowboard culture look like in this context? How do we evangelize when Christianity, and more specifically Jesus, seems irrelevant?
This fall at the Snowboarders and Skiers for Christ Conference, this is what we're going after: How do we minister faithfully in a Post-Christian world?
We're excited to learn together how to bring the light and hope of Jesus into our communities this winter!
This event is designed to equip and encourage everyone that wants to connect and learn more about ski and snowboard ministry. Every age, ability level, denomination, organizational affiliation, and background are welcome. We want this to be the annual meeting place to gather with God's people on mission in the mountains. Events will include prayer and worship, equipping information from industry experts, breakout discussions, games, and activities, shred time (weather permitting), and plenty of time to socialize.
Cost
$299 for ages 13+
$149 for kids 6-12
Free for kids 5 and under
Reserve your spot today for $99. Prices go up by $50 on October 1.
Included
3 Nights Lodging – 4 person occupancy in a shared 1 bedroom condo. Efforts will be made to secure the bedroom space for married couples. (Upgrade to private room available for an additional cost of $250 per couple for the weekend)
6 Meals (3 breakfasts, 2 dinners, 1 lunch)
Conference Sessions
Activities
Child care – limited hours
Not Included
One or two meals during free time
Lift tickets – available at a discounted rate
Airport transportation – available for $20 each way
Location
Black Bear Lodge
23 Black Bear Way
Waterville Valley, NH 03215
Black Bear Lodge is in the heart of the town of Waterville. It has an indoor-outdoor pool, hot tub, and is across the street from the Waterville skate park. The accommodations offer way more than your standard hotel room with at least one bedroom and kitchens in every unit.
Transportation
Our shuttle services will be available for Boston Logan and Manchester, NH airports. Flights must be incoming on Thursday 11/17 between 11am and 6pm and outgoing on Sunday 11/20 between 11am and 6pm.
Rent a car – for added flexibility consider renting a car. Our venue is just over 2 hours from Boston Logan and 1.5 hours from Manchester.
Schedule of Events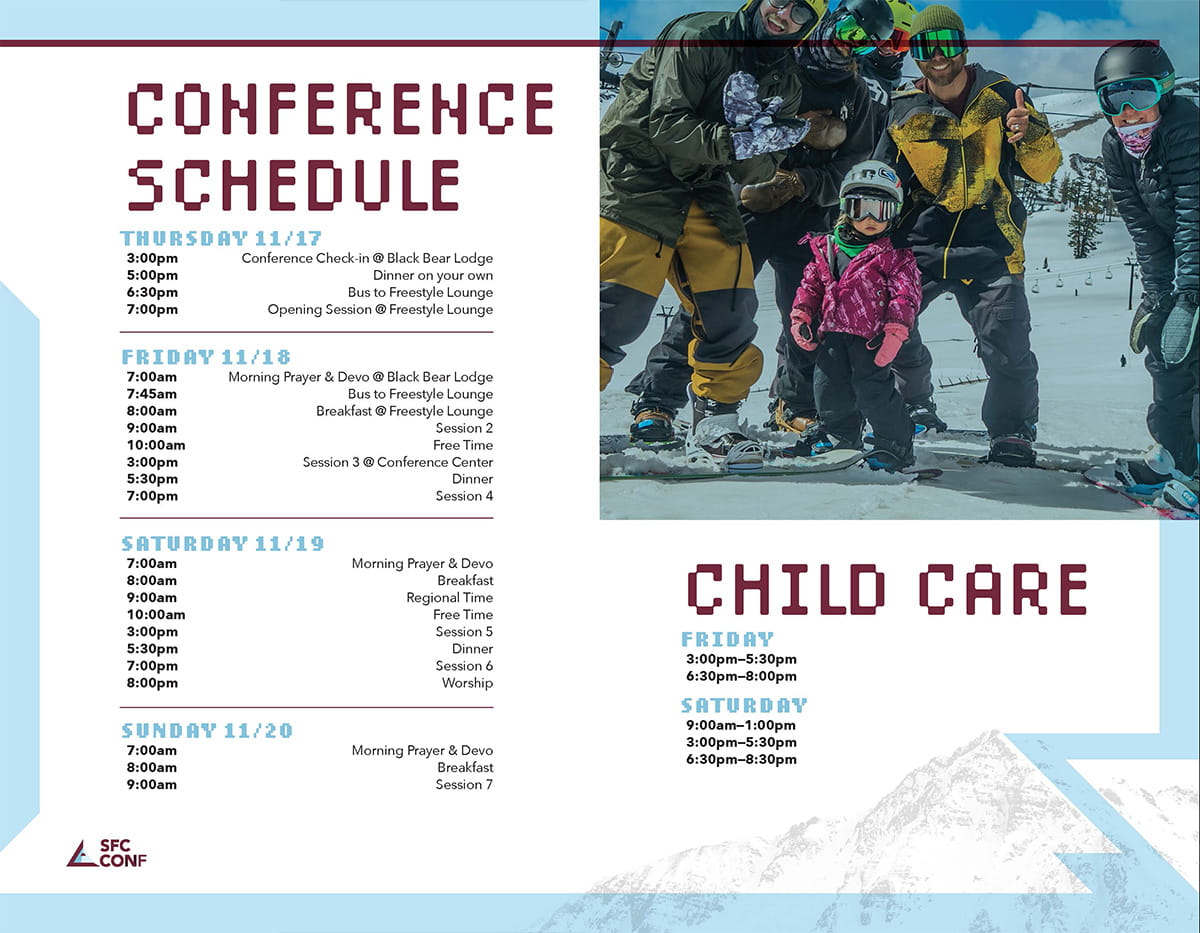 Frequently Asked Questions
Can I still come if I'm not a part of SFC?
OH YEAH! You definitely can! The conference is open to anyone who wants to get involved with or learn more about snowboard/ski ministry. Register and we will be stoked to see you at the conference!
What if I can't afford it?
If money is the ONLY reason you can't make it to the conference then please fill out
this form
before October 7th. The scholarship is need-based and every application will be considered on an individual basis.
Will there be snowboarding?
Yes! But only if you want to. The local mountains usually open late November. If there is no snow, there are plenty of other awesome things to do in the area.
I'm flying to the conference. Where should I book tickets to?
We suggest you book tickets to fly into Manchester, NH (MHT) or Boston, MA (BOS). We will be operating shuttles for these two airports. The content for the conference starts at 7:00pm sharp on Thursday the 17th and ends at 10:00am on Sunday the 20th. Plan your travel accordingly.
Register
Choose the number of tickets below for you and your party, then click "register now" to complete the process.
Need some help?
We're here and ready to help you find what you need. We're happy to supply more information about this celebration, give you some suggestions on lodging, or even talk to you about the costs. Please don't hesitate to reach out.